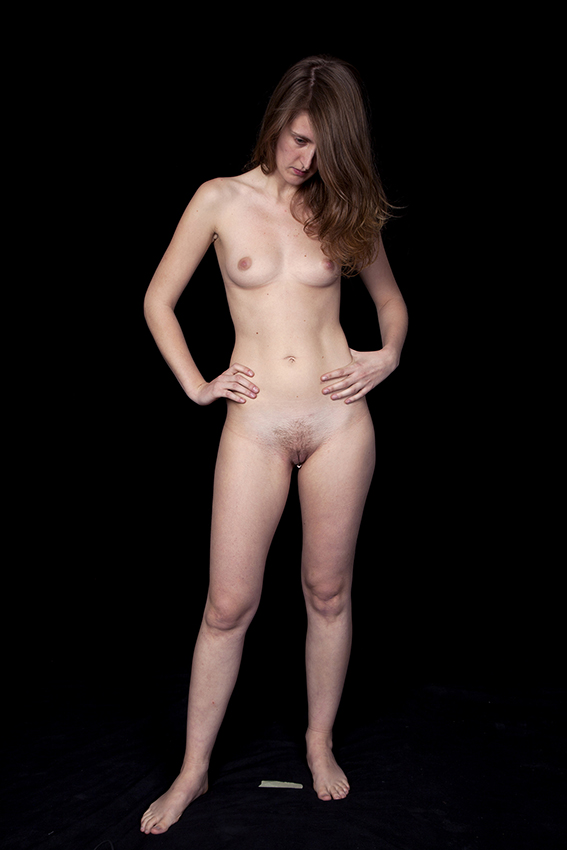 The images shown in this exhibition are collaborative self-portraits,
produced on November 5-6-and 7, during my workshop for women at The
Private Space in Barcelona, in a series of individual self-portrait
sessions. The experience is always a success: at least one work is
exhibited of each participant.
Each one of these women, completely alone in my studio, has taken a series
of self-portraits following (or reacting to) my instructions on the
expression of emotions such as rage, despair, terror or euphoria. When
she had finished, I involved her in the perception and choice of the
works and we selected the final work which would be shown in the
exhibition.
In the self-portrait we are author, subject and spectator at the same
time, and the dynamics between the three roles stimulate the unconscious
to speak with the language of art. The self-portrait is the portrait of
our creative self, our Higher Self: the only possible image of the
creator of the image, in the precise moment of the creation of the
image. It's like seeing the artist at work, shaping her emotions with
her mind. These images do not define us, they cannot label us, but they
express what needs to be said in this moment, and they do not only speak
about her, but about the human being in all its complexity.
I have asked these women to take their clothes off, because the naked
body makes us more vulnerable and intensifies our emotions, and because I
believe we must claim our right to let the body be expression of our
sheer humanity, thus proposing new standards of beauty. Our body, just
how it is, acquires a sublime shape, it becomes a work of art.
This women are true heroines, because they have decided to confront their
pain, the horror, rage and despair, and the idea of death. As speakers
for all of us, they have accepted to show images in which they didn't
like themselves, to express a powerful and revolutionary message which
would inspire the viewer to mirror himself in these images, in order to
share or start a journey through his own monsters, his hidden faces, his
inner life. Most of these women are Spanish (there are five Carmens in
this group!), but there are women from Brazil, Mexico and Argentina. I'm
thrilled to discover the huge talent and strength of the Basque,
Valencian, Andalusian and Catalan! All of them have entered their
"cavern" and looked openly in its depths.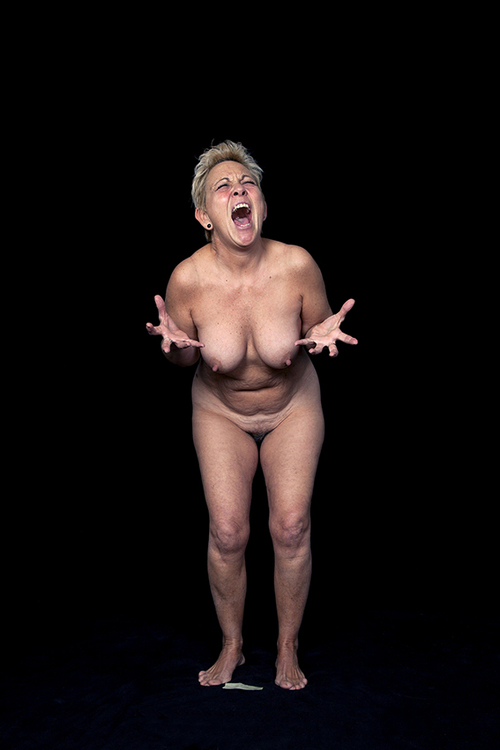 The exhibition shows them all. You'll see one who affirms herself as an artist and a muse at the same time. Another has let out her inner "lion", watching her "angel" appear later, and she is glad to see rings under her eyes. The anthropologist unconsciously performs a ritual dance to recover those roots she had left behind. Another woman, like the flames of a bonfire, bursts in a euphoric explosion after having
expressed emptiness and feeling lost. The next one screams, or maybe sings with the earthly energy of a prehistorical Venus. You'll see the one who seems to lull herself in an orgasmic pleasure, to her inner music. The one who takes the responsibility to show a physical violence we barely manage to watch. With her penetrating and dignified gaze, another one demonstrates that pain is a process of deep knowledge and a
source of inner strength. The transformation in only a few seconds, of another woman speaks about the wonderful plasticity of our ego. We will see a bold woman who looks like a mythical warrior after the battle.
Some explore the moment of death as a transformative and creative force. And there is also the one who wins the battle and survives. Only one man is present in this exhibition, and he seems to be in awe at the power of these women.
Thanks to Adriana, Alba, Ariadna, Bet, Carla, Carmen A., Carmen C., Carmen M., Carmen, Carme T., Cecilia, Clara, Cristina, Eli, Fanny, Laura, Lidia, Maia, María, Mariela, Mariña, Marisa, Marta, Roser, Tanit, Thais, Victoria and Stefano.
And my heartfelt thanks to the wonderful team at The Private Space for the huge passion, time and energy dedicated to my project. Thanks to Jose Manuel, Miguel Angel, Sandra, Silvia, Stefano, Nuria, Ana, Alejandro, Barry, Christian and Angel… An artist's dream come true…
I LOVE YOU ALL!!!! www.theprivatespacebcn.com