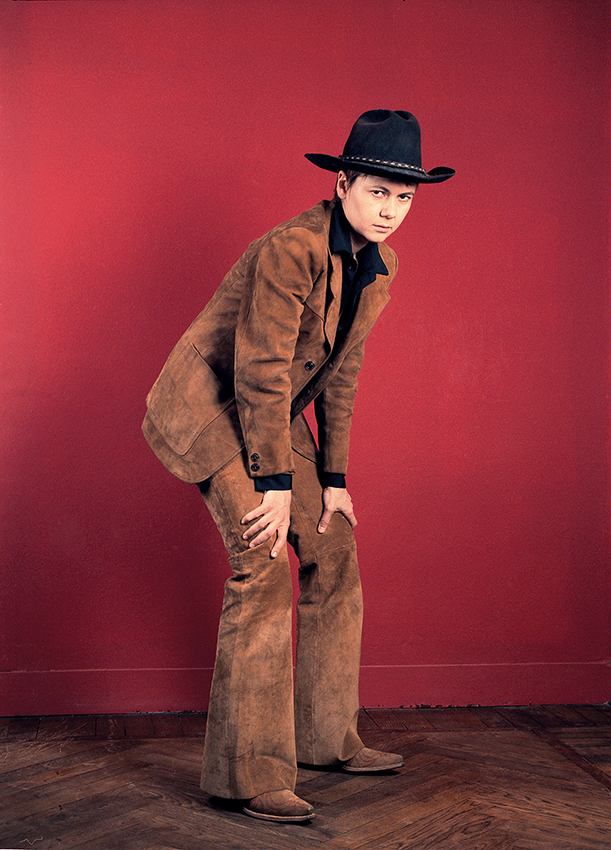 SOMEONE TO LOVE
de Cristina Nuñez
MS GALERÍA
Hnos. Álvarez Quintero, 4
28004 Madrid
+34 915 912 264
Inauguración: jueves 12 de abril 2012, 20h. Hasta el 12 de mayo.
De Martes a Viernes: 17h a 20.30h
Sábados: 11h a 14h
Cristina Nuñez empezó a tomar autorretratos en privado en 1988 para
superar problemas de autoestima y su adicción a la heroína.  Esta
práctica le permitió dar forma a sus propias emociones y revelar su presencia
al mundo y al mismo tiempo, a través de una mirada sin concesiones
sobre sí misma, crear un instrumento para proyectar la plasticidad de su
identidad en transformación. Estas imágenes se convirtieron en una
forma de auto-terapia a través de la cual Nuñez pudo acceder a su "yo"
más profundo. Someone to Love (1988-2011) reúne por primera vez los
mejores autorretratos realizados por la autora, que le permitieron
desarrollar a lo largo de 25 años el método The Self Portrait
Experience®, en el que ella comparte con los espectadores este proceso
de exploración interior. La artista, convencida de que «La separación
existente entre el arte y la terapia sea intolerable», considera el
método como el punto central de su trabajo artístico.
La exposición consiste en una serie de imágenes grandes, un gran número de fotografías de pequeño formato que recorren todo el perímetro de la
galería, formando una especie de "linea de vida", y dos vídeos: Someone to Love, un diaporama con la voz de la artista que narra su vida, y
Higher Self, una auto-entrevista sobre su filosofía neo-humanista, su método innovador y su visión del arte como potente instrumento para el
activismo social.
Durante la exposición, Nuñez realizará sesiones individuales de autorretrato con el público (50 euros).
Someone to Love se inauguró en septiembre 2011 en la galería Skol
Centre des Arts Actuels, una de las 25 exposiciones del Mois de la Photo
de Montréal 2011, que tenía como tema Lucidity. Inward Views (Lucidez,
Visiones Interiores. En Montreal, Someone to Love tuvo 2350
visitadores.
https://www.moisdelaphoto.com/nunez_en.html
https://www.skol.ca/fr/past/le-mois-de-la-photo-a-montreal-12e-edition
Algunos artículos en la prensa canadiense y norteamericana:
www.ledevoir.com/culture/arts-visuels/332096/le-fil-de-la-vie
www.thebelgoreport.com/2011/09/someone-to-love-cristina-nunez-at-skol/
https://lalettredelaphotographie.com/archives/by_date/2011-09-08/3892/montreal-2011-cristina-nunez
https://shtetlmontreal.com/tag/cristina-nunez/
Someone to Love es también un libro doble, publicado por The Private
Space Books de Barcelona: el primer libro es la autobiografía de la
artista, y el segundo, su método completo de autorretrato.
https://www.theprivatespacebcn.com/books/publications/someone-to-love
Más artículos sobre el trabajo de Nuñez en la prensa y TV española e internacional:
https://www.elpais.com/articulo/cultura/Matar/heroina/disparandose/misma/elpepucul/20101216elpepucul_5/Tes
https://espresso.repubblica.it/dettaglio/cristina-e-la-profondit%C3%A3-di-un-autoritratto/2145463
https://www.coolhunting.com/culture/someone-to-love.php
En el telediario, TVE1, dos minutos sobre su trabajo en las cárceles, con el apoyo de La Obra Social La Caixa:
https://www.rtve.es/alacarta/videos/telediario/telediario-15-horas-27-06-11/1139553/ MINUTO 47,27
Y una entrevista en la TV de Luxemburgo, sobre su proyecto Higher Self,
de autorretratos compartidos, en la exposición "Second Lives" en el
Casino de Luxemburgo.
https://www.youtube.com/watch?v=yixM7F14Q0o
Nuñez también ha realizado una serie de talleres de autorretrato con
los ciudadanos de Turku, Finlandia, sobre la expresión de emociones
difíciles, y las obras se expusieron durante los eventos de la Capital
Europea de Cultura 2011:  https://www.turku2011.fi/en/news/2000-11-self-portraits-exhibited-turku-between-october-and-november-2011_en
Biografía
Cristina Núñez nació en 1962 en Figueras, España. Vive y trabaja en Barcelona.
Desde el 2000, Cristina Nuñez produjo libros de fotografía en los que
se analizan temas sociales a través del retrato: Body and Soul (1994),
To Hell and Back (1995), Heaven on Earth (1998), Io sono/I am (2000). En
2010 publicó el libro Someone To Love: una autobiografía en imágenes y
una guía al método The Self Portrait Experience®, editado por The
Private Space Books.
Al margen de su trabajo público, realizó
autorretratos como forma de terapia desde 2005, así como los talleres
The Self Portrait Experience que ha estado dirigiendo en numerosos
centros de arte, universidades, cárceles, empresas y centros de
recuperación. Sus trabajos se han expuesto en el Mois de la Photo de
Montreal 2011, en el Palazzo Vecchio en Florencia (1997), en los
Rencontres d'Arles (1998), en el Centre National de l'Audiovisuel in
Luxembourg (2008), en la Fabbrica del Vapore en Milán (2008), en el
Festival FotoGrafia, en Roma (2009), y en The Private Space Gallery en
Barcelona (2010). En 2010 ha sido finalista (recibiendo la Mención de
Honor) en el New York Photo Festival Awards. En 2011, su obra se expuso
en Second Lives. Jeux masqués et autres Je, en el Casino Luxembourg, en
el marco del Mois Européen de la Photographie.
La artista agradece al Consell Nacional de la Cultura i de les Arts por su generoso apoyo.