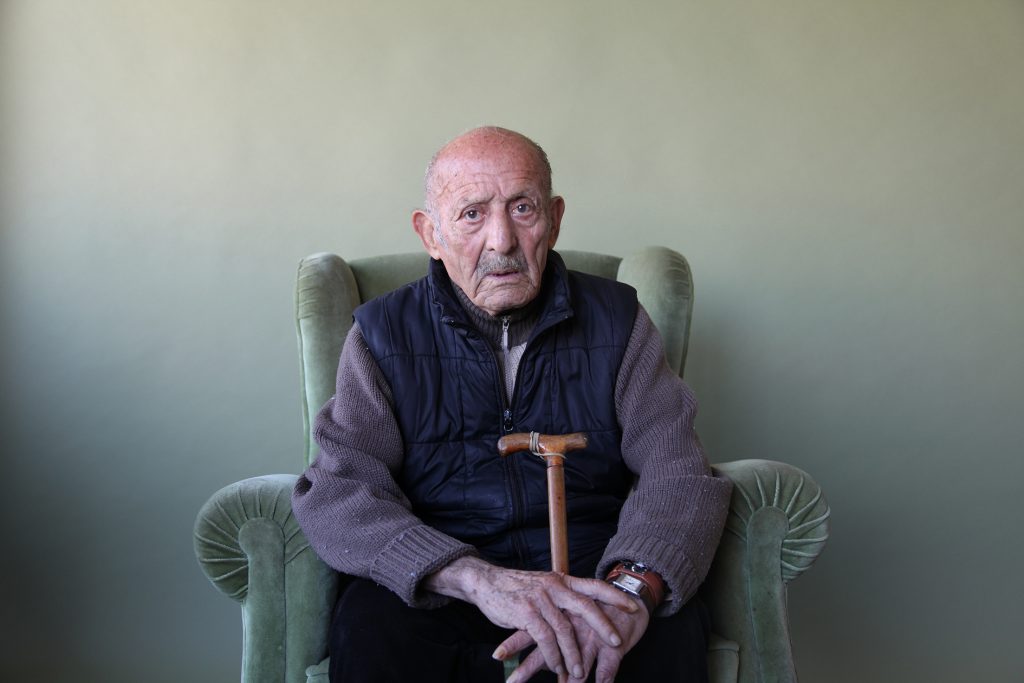 "In 2011 I had a powerful encounter with Antonio, a homeless man with an incredible story: he lived the Civil War in his childhood in Barceloneta, was enlisted in the army as a teenager and deserted to escape to France, where he spent the Second World War.
He worked for 40 years in the engines of large ships, traveling around the world and smuggling cigarettes and other goods. In the 80's he returned to Barceloneta. Soon after his father died and then his mother. He couldn't get his years at sea count for his retirement which was as little as 400 euros a month. He made a living selling antique postcards to tourists in Barceloneta. He never married, nor did he fall in love. He considered marriage was like "butter", relationships without affection, which fall apart because they are only an agreement of economic interests. And he didn't want to have children either, because he saw a world without solidarity". Cristina Nuñez
Cristina Nuñez proposed to Antonio to film his story, and he accepted. He sat in her grandfather's velvet armchair, and they spent two hours filming. They agreed that they would meet again, because Cristina wanted to document his daily life. But she never saw him again.
"I don't know where he is. Maybe he got what he wanted, death. He had no family anymore, he had no one. His disappearance didn't matter to anyone. That's why it's essential that his story is passed on. In the last few years I almost forgot about the project, which I considered unfinished, but I've decided to bring it out into the open, to set it up as it is, so that others can hear his story as he explained it that day, without embellishing it, without cutting it off. Here it is. At the moment, the video is in Spanish, soon it will be subtitled in English. But I recommend to listen to Antonio anyway: when you don't understand the language, you can perceive the non-verbal communication". C.N.
We do not realize how important it is to hear stories, those of our family but also those of others. It is something natural and necessary, which has always existed, but it seems that the world is not interested.
"Once, in Senegal, my daughter's great-grandmother went to the family's home village. It had been many years since she had been there, and she spent an entire afternoon telling the story of the family, surrounded by all the adults of the village, sitting in a circle around her, listening in complete and solemn silence, without moving, for three hours. The stories of life can transfer the pure essence of humanity, and listening to them allows us to become rooted, even if the story is not about our own family". C.N.
The nursing homes are full of old people who have lost the role of narrators of human history, and then they lose their memory, they are just waiting for death. And we become weak and uprooted, without their stories.
Likewise, those who suffer from a serious illness can also have much to tell and the creative process can give the value deserved to what they have lived. Cristina's new project is precisely to accompany the sick and the elderly to build their autobiographical project. It consists of collecting family photos, documents, letters, audios, videos and objects, and in parallel, producing video/audio interviews, self-portraits, portraits, landscapes, still-life, abstract photography, etc. The material is selected and together they begin to build the sequences or compositions that will form the project, which will take different artistic forms: book, exhibition, installation or video.
In these dramatic times of Covid-19, in which the sick and the elderly have died alone, painfully detached from their loved ones, family members can work on a book or video project to make a tribute to their lives and make their legacies visible and tangible.