EMOSEE is the prototype of a didactic art tool based on the SPEX dispositive. EMOSEE has been first tested during the project My Echo, My Shadow and Me for Esch 2022 European Capital of Culture. It includes an activity manual, an interactive application and a box of photo cards for the perception of the human face in portraits and self-portraits. The tool works at an educational level, but also in personal training, to enable students to connect with their emotions, to feel legitimised and empowered to express them; to learn to produce images of high aesthetic impact using photographic techniques; to learn to select, evaluate and perceive images, understanding the emotional expressions of faces, and to construct an autobiographical visual project with images, texts, sounds, etc., in order to understand the human face in portraits and self-portraits.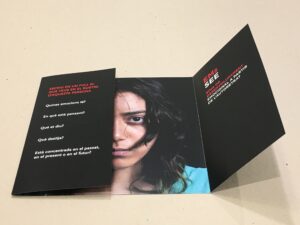 The EMOSEE tool consists of:
A manual of activities linked to SPEX and other autobiographical artistic activities, divided into three sections: Me, Me and others, Me and the world, including the SPEX criteria for perceiving and choosing images and directions for the creation of autobiographical visual projects.
A box of cards with images showing faces expressing emotions, with flaps (see images below) covering both halves of the face to work on the perception of emotions according to emotional lateralization. The flaps contain questions such as: What emotion is he/she feeling? What thoughts does he/she have? What does he/she need?
An application for Smartphones and PC/Mac, for now a web app: emosee.cristinanunez.com Users can upload their portraits or self-portraits and work on the multiple perceptions of the human face in the images, in order to broaden their ever-changing perceptions and accept the images, or at least not delete them!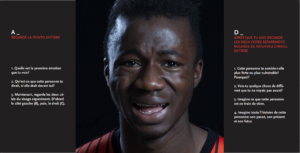 In collaboration with the Ministry of Education of Luxembourg, EMOSEE will be further tested during the 2023-24 academic year by 5 classes of students in 5 high schools and professional schools in Luxembourg.